DECOLONIZING WIKIPEDIA: EDITING ROMANTIC DEPICTIONS OF COLONIAL HISTORY AND LITERATURE
December 1, 2017@ 11:00am – 3:00pm
Inspired by two recuperative digital archives at Northeastern, the Early Caribbean Digital Archive and the Women Writers Project, this event seeks to revise Wikipedia articles which extend romantic and orientalist representations of colonial history and literature. Our goal is to neutralize the heightened romantic and sentimental language used on Wikipedia to represent historical figures, paying special attention to representations of marginalized persons such as women, free and enslaved people of color, and indigenous persons. We will focus on Wikipedia articles on historical persons, travel narratives, natural histories, captivity narratives, and slave narratives.
---
TRANSCRIBE-A-THONS FOR BLACK HISTORY
February 14, 2017 @ 12:00pm – 2:00 pm
May 24, 2017 @ 12:00 pm – 2:00 pm
We organized two transcribe-a-thon event to help the work of the Colored Conventions Project. You can find more information on that project here: http://coloredconventions.org.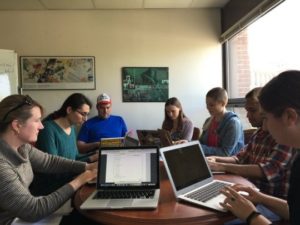 ---
ZINE WORKSHOP
May 10, 2017 @3:15pm – 5:15pm and
May 17, 2017 @3:15pm – 5:15pm
Take a cue from the punk and cartoonist movements of the 1980s and channel your inner poet/visual art activist. No experience necessary, but participants are encouraged to use their local copy machines to publish and spread their creations!
Here are the finished projects: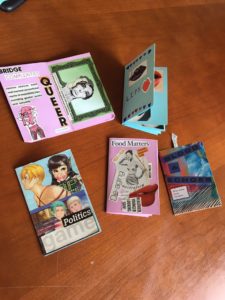 ---
KEEPING THE PUBLIC SPHERE OPEN
NULab for Texts, Maps, and Networks Spring Conference
March 24, 2017 9:00am – 5:00 pm
Two members of the Digital Feminist Commons, Liz Polcha and Nicole Infanta Keller, shared the experience they had building a digital feminist community at Northeastern. At the conference, they were able to pose the following questions to a larger digital humanities community: How are faculty, graduate students, and staff collaborating together on digital humanities feminist research in the Boston and New England area? How can the digital humanities welcome feminist researchers who may be unfamiliar with digital methods? How does labor affect collaboration in digital humanities feminist research?
---
WORKSHOP: BUILDING DIGITAL FEMINIST COMMUNITIES
March 15, 2017 @ 12:00 pm – 2:00 pm
Jacqueline Wernimont, founding co-Director of the HS Collab and assistant professor of English at Arizona State University hosted a workshop on "Building Digital Feminist Communities."
---
PANEL: FEMINIST METHODS IN DIGITAL SPACES
March 13, 2017 @ 10:30 am – 12:00 pm
A panel and discussion featuring:
Moya Bailey, Assistant Professor of Cultures, Societies and Global Studies and Women's, Gender and Sexuality Studies, Northeastern University
Carla Brodley, Professor and Dean of the College of Computer and Information Science, Northeastern University
Gillian Smith, Assistant Professor of Game Design, Northeastern University
Jacqueline Wernimont, founding co-Director of the HS Collab and Assistant Professor of English, Arizona State University.
---